Donald Trump likes Golden Showers. Allegedly*
Last week Buzzfeed ran an article siting an unclaimed source claiming that U.S. President Elect Donald Trump was basically blackmailed into being a Russian double-agent thanks to compromising information they compiled on Trump revolving around his sexual fetishes, particularly his love of "Golden Showers". If it's true it's devastating news for the stability of the US and the western world.
But wouldn't it be funny if it were true?
Wouldn't it be funny to see Trump supporters who ignored, or outright condoned the racism, homophobia and all of the insipid shit he spouted for years tapdancing to defend the fact that the US president was blackmailed by their country's biggest enemy because he liked getting pissed on?
I mean there's nothing wrong with getting pissed on, you like what you like and I'm not here to judge whatever people do as long as it involves consenting adults, but the fact that he liked getting pissed on so much and that he was so ashamed of it that he's willing to tank the entire world to cover it up is hilarious to me.
I have to laugh because if I don't I'll think about how we'll probably all die because of this man, and the fact that he likes getting peed on.
Derrick Rose Went Missing
Somehow in 2017 a 6'4″ NBA player making $21 million a year to play for the New York Knicks did what we couldn't do at our shitass hotel jobs and didn't call or show up to work.
If we tried that we would be one step closer to collecting unemployment and somehow a guy so mediocre at his job that he loses crunch time minutes to Ron Baker does it with basically no repercussions. Okay I guess.
Rose explained his absence by saying that he needed to be with his mom, that was it.
Not "my mom is sick", n?ot "my mom needs me", just "I need my mom".
Rose's current stint in New York is the only time the former NBA MVP has spent extended time outside of Chicago since his lone season at the University of Memphis and there are whispers that he's having trouble adjusting to being away from home.
It's easy to pile on professional athletes for exhibiting human emotions simply because they get paid a lot of money, but with that said: Rose needs to grow the fuck up.
Journeyman NBA players generally get moved around a ton, they can't go AWOL because they'd be out of the league if they tried that shit. Derrick Rose can get away with it because he's Derrick Rose but as his skills continue to decline he's going to want to tread lightly before he finds himself back in Chicago for good this time.
The Cowboys Lost a barn burner, Memes Ensued 
Yesterday the Dallas Cowboys lost a ridiculously close game to the Green Bay Packers in what may have been one of the most thrilling games of football I've seen probably ever. Cowboys Rookies Dak Prescott and Ezekiel Elliott lived up to the hype with Prescott throwing for 302 yards and three touchdowns and Elliott running for 125 yards on 22 attempts despite the offense suffering a sputtering at the beginning of the game. The rookies bear none of the blame for this loss.
That goes to a Cowboys defense that got carved up with surgical precision by Packers Quarterback Aaron Rodgers and two improable field goal makes by Mason Crosby, who may very well be the best kicker in the game.
Despite the cowboys offensive players not deserving any blame for this loss we have memes. Boy do we have memes.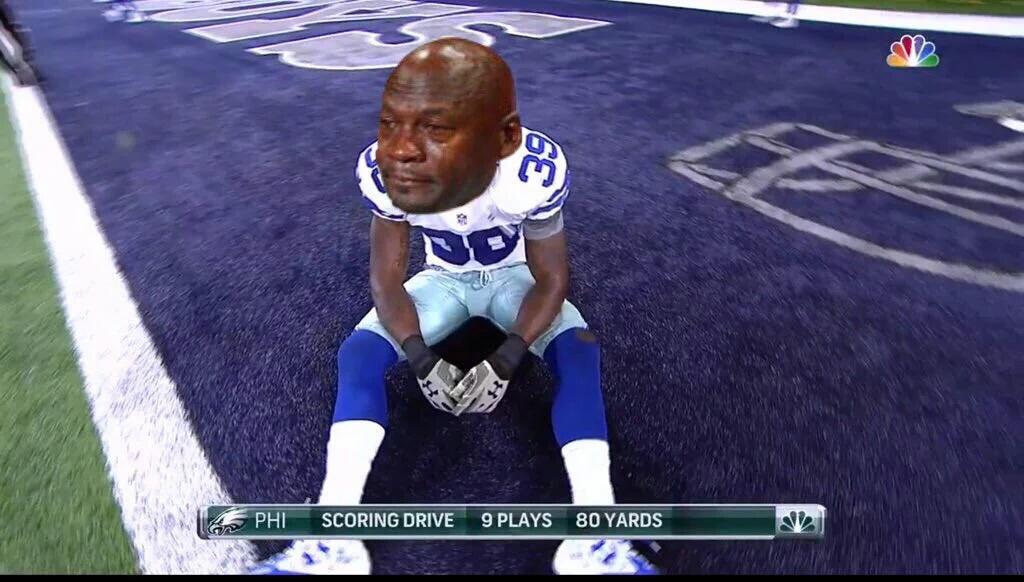 When the Cowboys lose we all win.
Here's hoping for The Patriots lose too. I'm sure the Internet is going to have a ton of fun with that.
Clemson Won the College Football National title
The reason I referred to the Cowboys/Packers game above as one of the best football games I've ever seen and not the best football game I've ever seen is because I also happened to catch Clemson's victory over Alabama on Monday. Man was that a thriller.
I could dissect the Xs and Os of this game six ways till Sunday but I won't be telling you anything different from what you heard from whatever loudmouth sports pundit you've been watching on TV all week, so I'll give you my personal takeaways from this amazing game.
Hunter Renfrow is definitely going to play for the New England Patriots.
Clemson wide receiver Hunter Renfrow may be the living embodiment of the Patriot way.  He's a very intelligent player, at 5'11" he lacks in physical ability he makes up for in grit and toughness, he's deceptively athletic, he's a fanatical worker, a gym rat by all accounts, he's always the first player in the practice facility and the last one out, and there's that other thing that Patriots receivers tend to have….
Deshaun Watson is definitely going to be an NFL quarterback
Coming into this season Clemson Quarterback Deshaun Watson was regarded as the best NFL quarterback prospect in college, however his NFL draft hopes took a as his numbers across the board either declined or plateaued.
Deshaun Watson the hot NFL prospect is back. He looked every bit the part of an NFL quarterback in his final outing carving up the best college defense I've ever seen to the tune of 425 yards in the air along with 3 touchdowns and 43 on the ground.
What stood out was how he picked Alabama apart. He sat in the pocket and read the field and made throws in tight windows to the sidelines, he escaped the blitz and avoided hits by sliding and running out of bounds, he lead Clemson's offense to scores in two minute drills at the end of the game twice.
It's really hard to predict NFL success at the quarterback position, especially given the disparity in the way in which the college and pro games are played, but if I was a betting man I would place my money on Deshaun Watson being successful (*as long as he doesn't play for Cleveland).
Jalen Hurts is going to be okay
Following the game I heard a lot of criticism leveled towards Alabama true quarterback Jalen Hurts. Deservedly so as the 18 year old true freshman went 13-31 with 131 yards and 63 yards rushing on 10 attempts.
While Hurts' passing numbers were definitely paltry, watching the game wind down I definitely believe that Hurts is going to be okay.
Sure he has to develop better pocket awareness if he wants to become a more effective passer but his last drive showed that he had a ton of poise, considering he was at his prom just 7 months ago, and the ability to make a big time throw in a tight situation on his pass to OJ Howard on 3rd and 16.
The problem he had in this game is that Alabama spent the entire season leaning on its running game while relying minimally on him to make a play.  All of that got thrown out the window when stud running back Bo Scarborough went down late in the first half.  Hurts suddenly was asked to do more than he's ever been asked all year.
This game he's shown flashes of being an effective pocket passer against the best defense he's ever seen in his life. I'd like to see how he develops moving forward under new offensive coordinator Steve Sarkisian.
Dabo Swinney is still a jerk
Clemson Head Coach Dabo Swinney has repeatedly spoken out in the past against college football players getting paid despite the fact that he makes $5 million a year entirely off their hard work.
 He was asked that question again, in light of the fact that he made a $1.4 million bonus for winning the national title game despite the fact that he did nothing but stand on the sideline and yell at working and middle class (mostly) black kids who sacrificed their time and health to make him millions of dollars.
His response was as disappointing and cringe inducing as you would expect to hear from Dabo speaking on anything that has to do with progress or equality.
  "I'll go do something else because there's enough entitlement in this world as there is."
This ass-clown who gets paid almost $7 million a year to exploit the talent and hard work of children really wants to talk about entitlement.
Really.
Fuck Dabo.
Connor McGregor got His boxing License 
After a couple of years going back and forth with boxing champ Floyd Mayweather, MMA fighter and legendary trash-talker Connor McGregor upped the ante and decided to get his boxing licence.
As of right now, no tangible plans for a fight as in the work as the Mayweather and McGregor camps are wrangling over money, and as much as people want this fight to happen, it absolutely can't.
Though the two are fighters and there is some level of overlap in the two sports they perform in, there isn't enough to justify them fighting each other. Under MMA rules there's a good chance McGregor will pull Floyd's goddamn arms off. As much as I would like to see that, it probably isn't a good look.  And if the rules are boxing rules there's a good chance that Floyd will wreck Connor with his trademark hard-hitting style….
okay Floyd's not going to hurt anyone (that's not his spouse, he beats the shit out of them). But Connor McGregor can't beat him in a ring under boxing rules.
I have a solution to solve this impasse.
Let's Make them Play Basketball against each other.
I've found a way to level the playing field. They have both displayed equal skill at basketball (they're both terrible).
What do they have to lose?
Athlete who is very good at sports:
Isaiah "Not the one from the Pistons" Thomas went the fuck off last week hitting the Washington Wizards up for 38 on Wednesday a few days after he hit the New Orleans Pelicans up for 38.
Dude is averaging 30 a game despite being as tall as the little guy at your local park who thinks he can really handle the rock because he's waist high. He's really as good as that guy thinks he is too.
He is this week's athlete who is really good at sports.
Comments